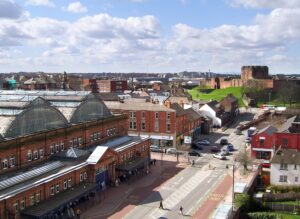 Snagging Survey Carlisle
Are you considering purchasing a new build property in the beautiful city of Carlisle? As one of the major urban centres in Cumbria, Carlisle offers a vibrant lifestyle with a rich history and a range of amenities. Whether you're attracted to its stunning architecture, bustling city centre, or proximity to the picturesque Lake District, Carlisle has a lot to offer. However, when it comes to buying a new home, it's crucial to ensure that the property meets the highest standards of quality. That's where a snagging survey in Carlisle becomes essential.
What is a snagging survey?
A snagging survey is a comprehensive inspection carried out by a professional surveyor to identify any defects, faults, or unfinished work in a new build property. These issues, known as "snags," can range from minor cosmetic problems to more significant structural concerns. By conducting a snagging survey, you can have a clear understanding of the property's condition before completing the purchase.
Why get a snagging survey in Carlisle?
Similar to other areas in the UK, Carlisle has witnessed significant new build development in recent years. Developers are drawn to the region not only due to its favourable location and excellent transport links but also because of the appeal of living in a vibrant city surrounded by stunning countryside. However, it's crucial to remember that even in newly constructed homes, there can be hidden issues that may not be immediately apparent.
Snagging survey investment.
By investing in a snagging survey, you can ensure that your new home meets the high standards you expect. The surveyor will meticulously inspect every aspect of the property, including its structure, fittings, finishes, and more. They will compile a detailed report, highlighting any snags they find, which you can then provide to the developer for rectification. This report serves as a crucial tool for resolving any outstanding issues and ensuring that your dream home is in perfect condition.
How does a snagging survey benefit you?
Undertaking a snagging survey offers numerous benefits. Firstly, it provides you with peace of mind, knowing that your investment is protected.
Moreover, by identifying potential issues early on, you can address them promptly, thereby preventing them from escalating into more significant problems later. Additionally, a snagging survey report acts as concrete evidence to support your claim for remedial work to be carried out by the developer within the stipulated two-year period.
How much does a snagging inspection cost in Carlisle?
At Cumbria Snagging, we understand the importance of affordability and transparency. Our snagging inspection package starts from £320, with pricing varying based on the size of your house. For a detailed breakdown of our prices, please refer to our website.

New build  developments Carlisle. There are multiple developments around Carlisle. Story homes Oakleigh Fields has a range of semi and detached houses with a mixture of brick and render finishes. 
If you're purchasing new build property in Carlisle, don't leave the quality of your home to chance. Contact us at Cumbria Snagging to schedule your snagging survey and ensure that your property meets the highest standards. Our experienced professionals will provide a thorough inspection and compile a comprehensive report for you to share with your developer. Don't forget to check out our FAQ section on our website for more information.
Investing in a snagging survey is a wise decision that will give you peace of mind and help you enjoy your new home in Carlisle for years to come. Don't wait—act now and secure the quality you deserve. Book online today.