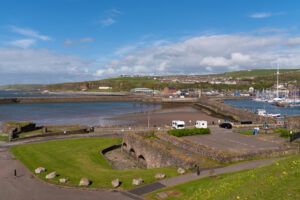 Snagging Survey Whitehaven: Your Guide to Quality Assurance in a New Build Home
Nestled on the picturesque Cumbrian coast, Whitehaven is a charming town that effortlessly combines natural beauty with a rich history. With its stunning coastal views, vibrant community, and a range of amenities, it's no wonder that Whitehaven is an attractive location for those seeking a new build home. If you're considering purchasing a property in the area, a snagging survey is an essential step to ensure your new home meets the highest standards of quality and craftsmanship.
Why get a snagging survey in Whitehaven?
Whitehaven's appeal as a location for new build homes has been on the rise in recent years. The town offers a blend of modern living and historical charm, with its quaint streets and proximity to the scenic Lake District. One notable new build development in Whitehaven is the Ivy Mills development by Gleeson Homes. This development promises contemporary homes designed to meet the needs of modern families while maintaining a sense of community and connection to the surrounding area.
When purchasing a new build property, it's important to remember that even with reputable developers minor defects or unfinished work can occur during construction. This is where a snagging survey becomes invaluable. By engaging a professional surveyor, such as those provided by Cumbria Snagging, you can have peace of mind knowing that your new build home will be thoroughly inspected, and any issues will be documented and addressed by your builder. 
The benefits of a snagging survey
While it may be tempting to rely on a visual inspection or trust that the developer has completed the work to the highest standards, a snagging survey offers a level of expertise and attention to detail that is crucial for uncovering potential issues. A professional surveyor has the experience, knowledge, and specialised tools to identify even the smallest defects that may have been overlooked during the construction process.
Typically, a snagging survey report can highlight between 70 and 100 minor defects. By addressing these issues before you move in, you can avoid future headaches and expenses. Additionally, a comprehensive snagging report serves as a valuable document to present to the developer, ensuring that any necessary remedial work is carried out promptly.
Cost of a snagging inspection
At Cumbria Snagging, we believe in transparent pricing. Our snagging package for Whitehaven starts from £320, with prices varying based on the size of your property. You can find our full price list on our website, enabling you to understand the cost upfront.
Have more questions? We're here to help!
We understand that purchasing a new build home is a significant investment, and you may have further inquiries about snagging surveys. We encourage you to reach out to us via messenger or give us a call. Our dedicated team is ready to assist you and provide the information you need. Don't forget to visit our website's FAQ section for new build snagging, as it contains valuable insights and answers to common questions.
When it comes to securing the quality of your new build home in Whitehaven, a snagging survey is a crucial step. Don't let minor defects go unnoticed—take action now and ensure that your dream home meets the highest standards. Contact Cumbria Snagging today, and let our experienced professionals guide you through the process of achieving a snag-free home in Whitehaven. 
One notable new build development in Whitehaven is the Ivy Mills development by Gleeson Homes. Located in a desirable area, Ivy Mills offers a range of contemporary homes designed with modern families in mind. With a v
variety of house types and sizes, this development caters to different lifestyles and preferences. The properties at Ivy Mills boast stylish designs, thoughtful layouts, and high-quality finishes, making them an appealing choice for those seeking a new home in Whitehaven. With its convenient location and the promise of a well-designed community, Ivy Mills is an exciting addition to the growing residential landscape of Whitehaven.